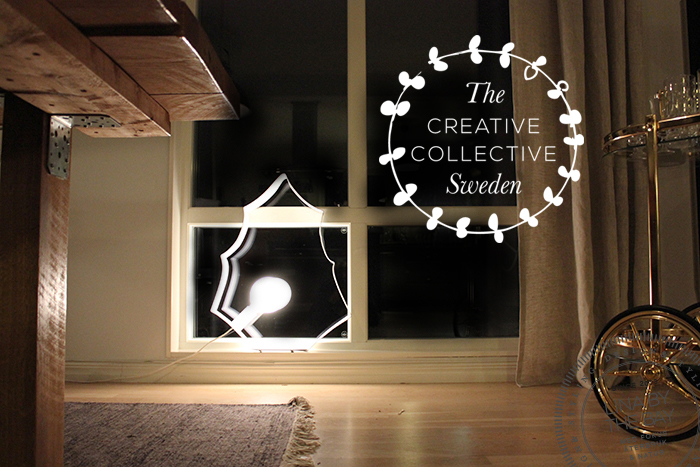 Som ni har sett tidigare så är årets kreativa julkalender igång med Creative Collective Sweden och idag bjuder jag på "lucka" nummer 5. Igår fick ni tips om hur man gör enkla och otroligt snygga kransar av trä hos Mina på Minipiccolini och imorgon kommer Helena som driver hobby- och pysselbutiken Make and Create att öppna lucka nummer 6 på sin blogg Craft & Creativity.
As you´ve seen earlier here, our creative christmas calendar is on going with Creative Collective Sweden and today, the turn is mine to give you some christmas inspiration, hopefully. Yesterday Mina at Minipiccolini showed her lovely modern, wooden wreaths and tomorrow Helena will invite you to her beautiful craft blog Craft & Creativity.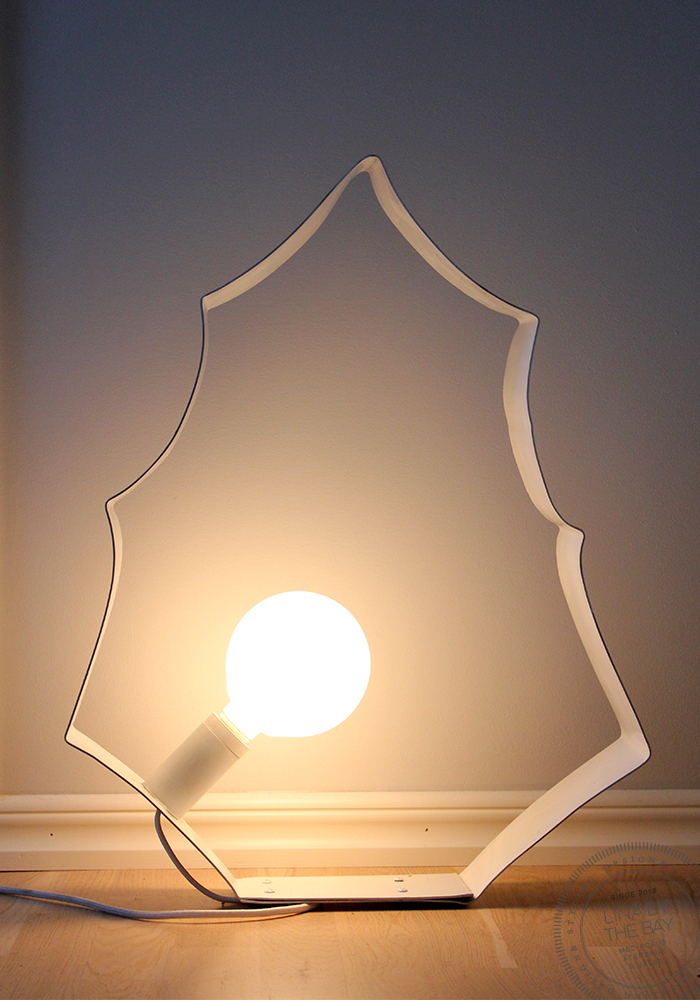 Jag är inte stormförtjust i ljusslingor i vårt hem men njuter gärna av grannarnas sådana på avstånd. Däremot känns det viktigt att fylla huset med ljus under den här mörka årstiden och beslutade mig då för att göra en egen julig lampa som ersätter ljusslingegrejen. Tanken var att jag skulle göra en stjärnlampa men det blev alldeles för knepigt att böja till alla uddar så istället lyckades jag forma en julgran av aluminumplåten som jag använde mig av. Om du vill göra en liknande – följ gärna mina steg nedan.
As I´m not very found of light chains in my own home but yet the neighbours decorations, I decided to make my own kind of christmas lamp. At first I tried to make a star lamp but it was way to hard for me to make all the pointy edges so I simply formed it into a christmas tree instead. I used aluminum plate to make my lamp. If you would like to make a similar lamp – please follow my steps below.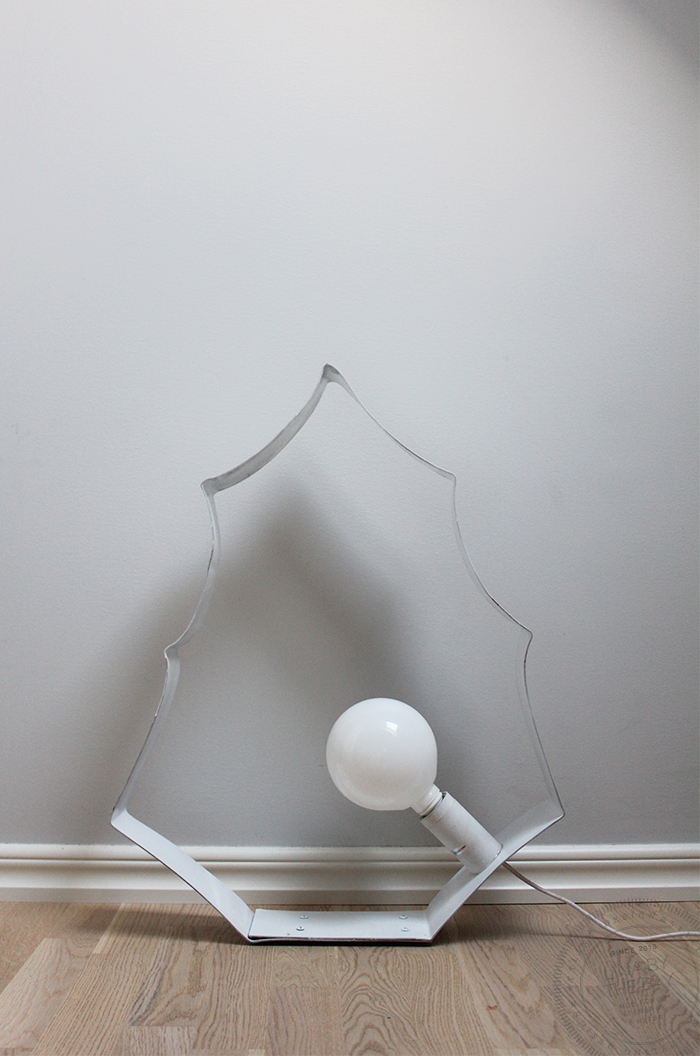 Så här kan man göra en julig lampa/How to make a christmas lamp:
1. Jag hade redan en avlång bit plåt och använde mig därför av den annars får man såga till en lämplig bit. I already had a perfect piece of plate but if you don´t, just cut out the piece you´d like.
2. Mät ut var du vill att böjarna ska vara och skruva fast plåtbiten mot en träplanka i ett skruvstäd och banka sedan ned kant för kant med gummiklubba. Measure and make a line where you want the edges and then start beating them out with a rubber hammer. 
3. Skruva ihop ändarna med skruv och mutter så att den blir så pass stabil att den kan stå för sig själv på golvet. Screw the edges together in the bottom of the lamp to make it stable enough to stand on it´s own on the floor.
4. Gör ett hål med lämpligt verktyg för sladden och kontakten. Jag borrade småhål och lyckades sedan slå ut ett hål där till och med kontakten kom igenom. Make a hole (where you want it) for the electricity wire.
5. Jag valde att sprayfärga min stålform i vitt. Ett tips är att spraya den tunt i många omgångar. I mitt fall sprayade jag fem gånger. I choose to spray my lamp pure white. And I had to do it five times very thin and then the result was good.
6. Slutligen limmade jag fast lampfoten kring hålet jag hade gjort i plåten. Finally I glued the lamp onto the plate.
Good luck!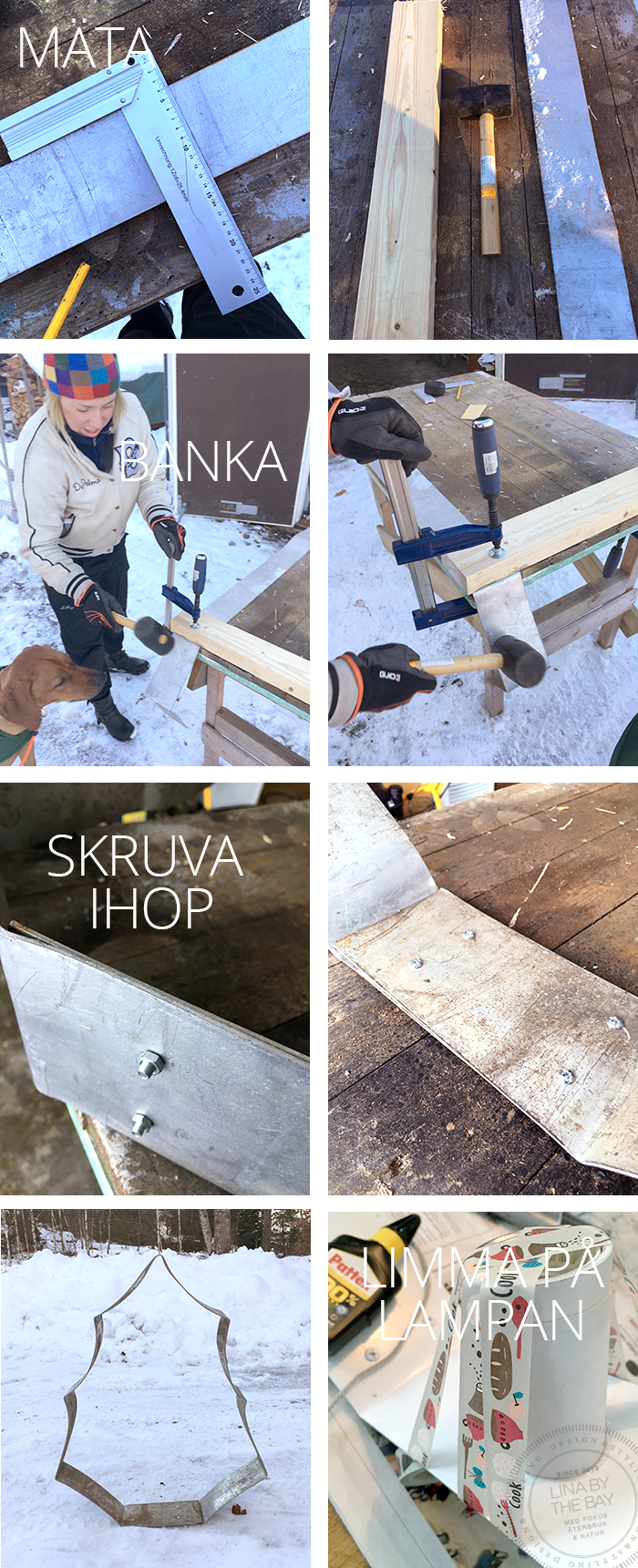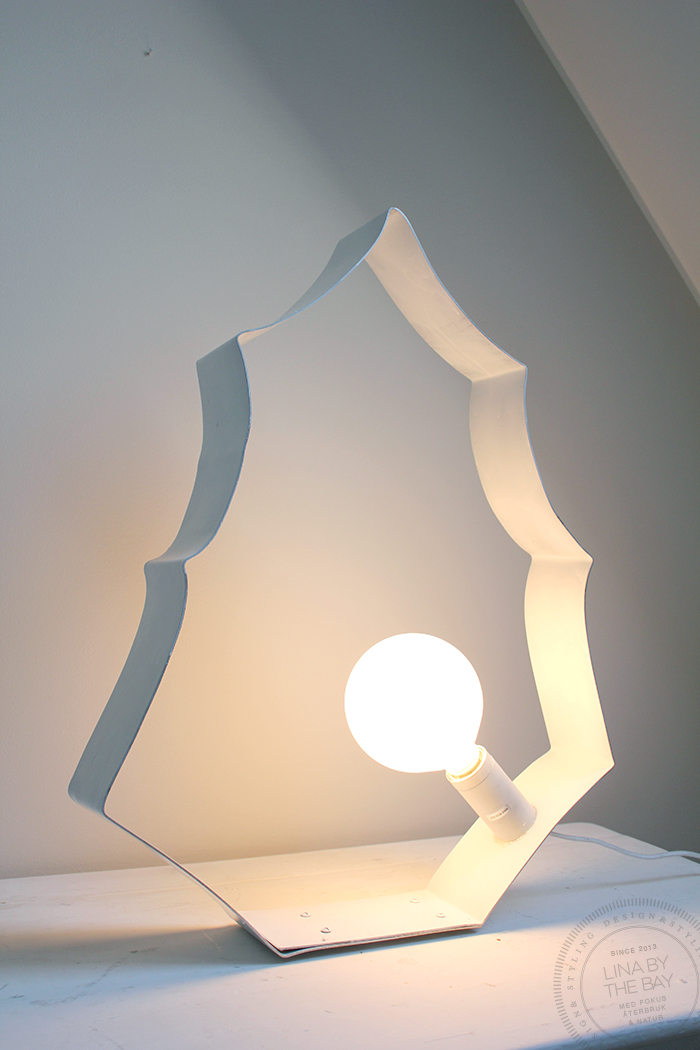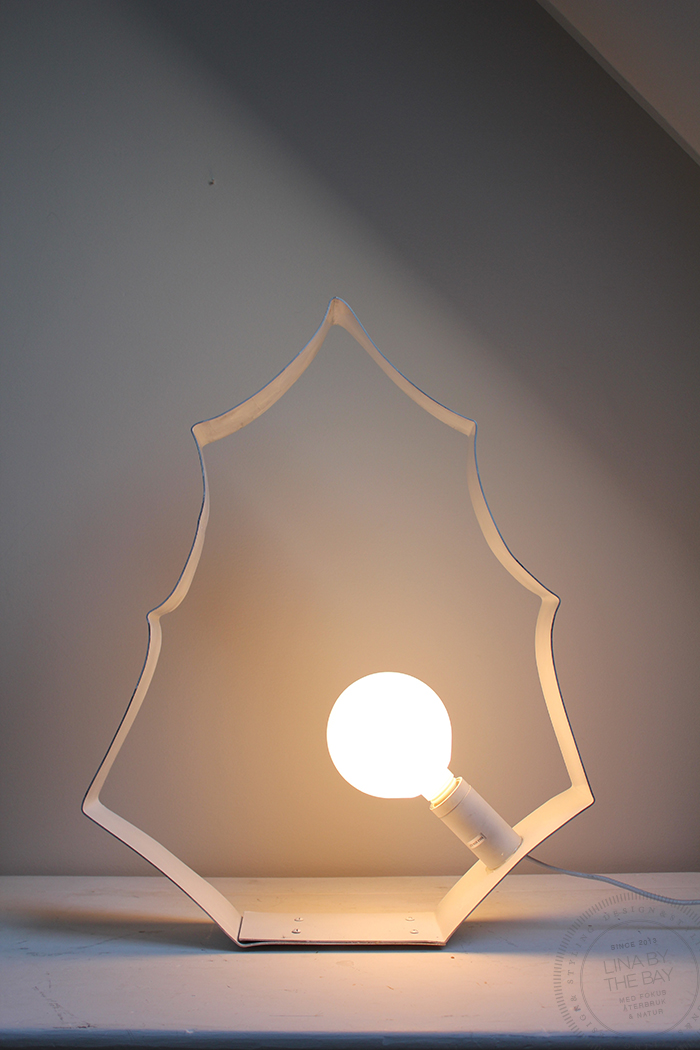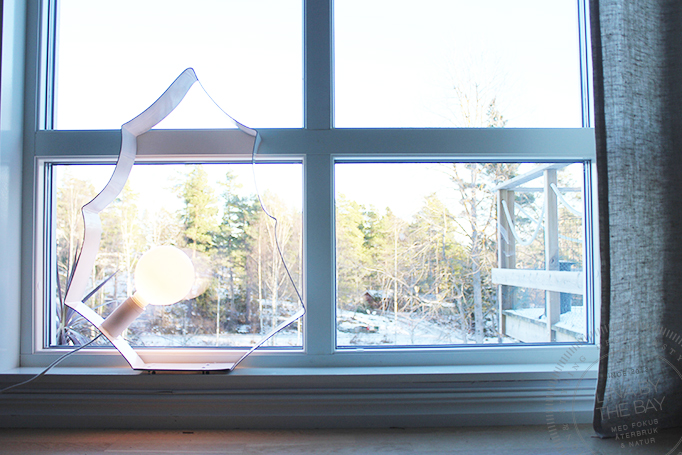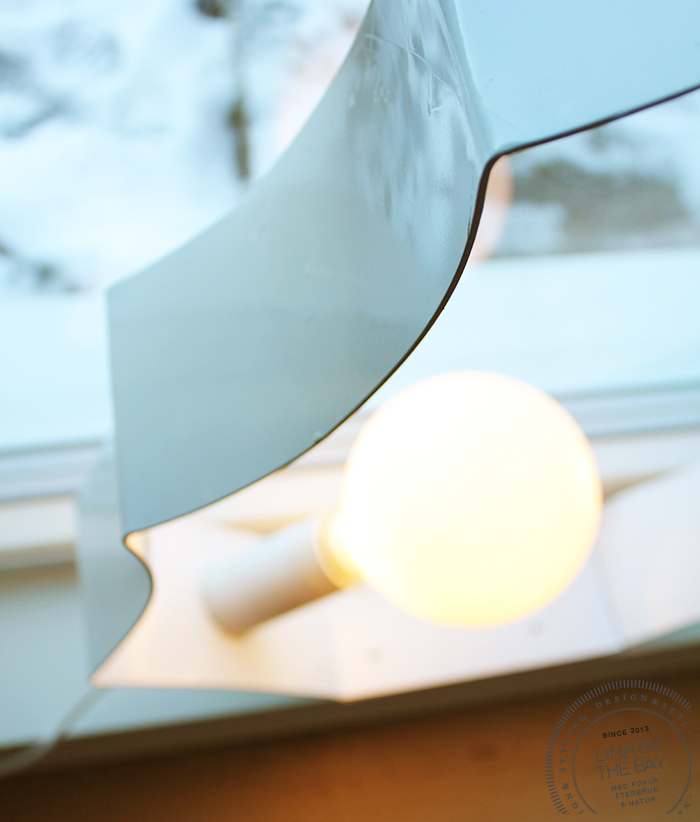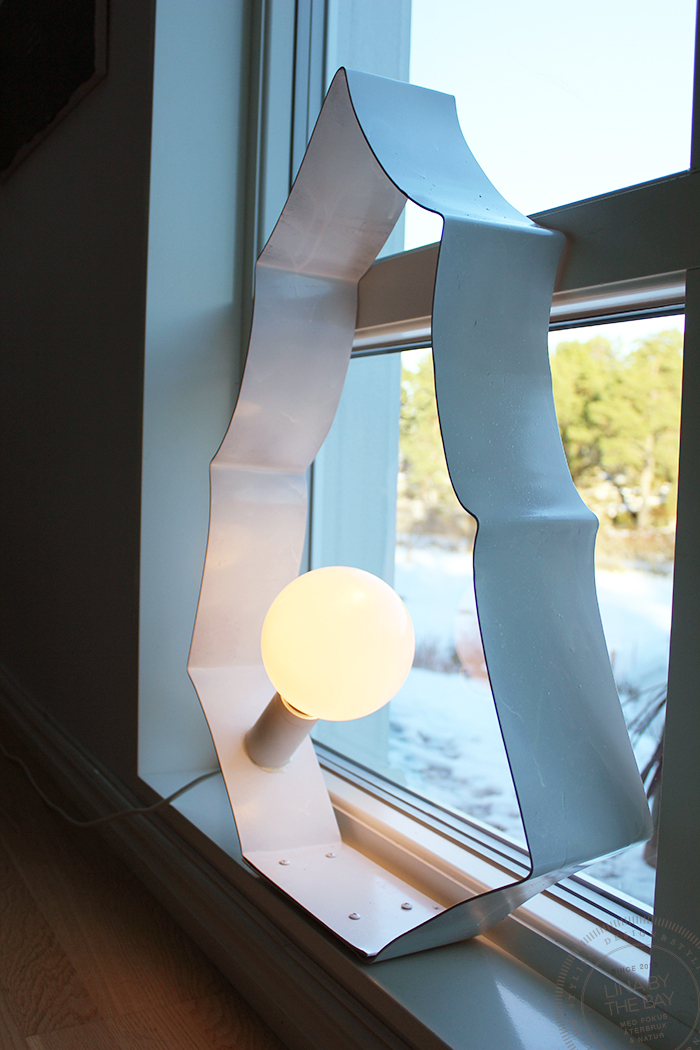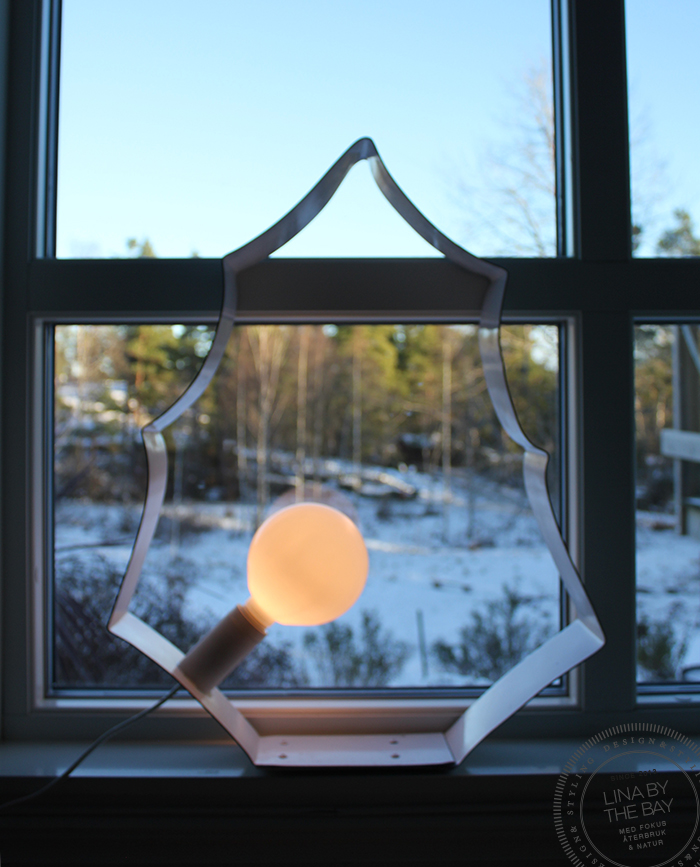 2016 The Creative Collective Calender:
1 Thurs/ torsdag Dec 1 Dec Gina  |  willowday
2 Fri/fredag          Dec 2 Brittany | House that Lars Built
3 Sat / lördag       Dec 3 Karin  | Pysselbolaget 
4 Sun/söndag     Dec 4  Mina | Minipiccolini
5 Mon / måndag  Dec 5 Lina | Lina by the bay
6 Wed/ onsdag  Dec 6  Helena S  | Craft and Creativity
7 Tues |tisdag    Dec 7 Helena   | mormorsglamour
8 Thurs/ torsdag Dec 8 Ulrica | Kriis Kitchen
9 Fri/fredag* Dec 9 Helena L | hemmahoshelena
10 Sat / lördag  Dec 10 Paul | Sweet Paul Magazine  
11 Sun/söndag Dec 11 Gina | willowday
12 Mon / måndag Dec 12  Sophia |  MOKKASSIN
13 Tues | tisdag Dec 13  Karin | Pysselbolaget 
14 Wed/ onsdag Dec 14  Karoline | Gröna Skafferiet
15 Thurs/ torsdag Dec 15 Sofia / Hildas.se
16 Fri/fredag* Dec 16  Matilda + Nathalie |  Babes in Boyland
17 Sat / lördag Dec 17 Helena L | hemmahoshelena
18 Sun/söndag Dec 18  Karin | KreativaKarin
19 Mon / måndag Dec 19 Malin | Pastillnu
20 Tues |tisdag Dec 20 Helena N  | mormorsglamour
21 Wed/ onsdag Dec 21   Marie / Musqot
22 Thurs/ torsdag Dec 22 Mina  | Minipiccolini
23 Fri/fredag         Dec 23  Åsa | atmycasa
24 SAT (JUL AFTON)  Dec 24 Sofia /  Hildas.se
Don't miss a post!
Join us on Facebook (HERE) where we'll update the calander every day.
Join us on Instagram (HERE) where we'll post the full calendar, day-by-day
and Pinterest (HERE)  for these posts and more!